The Green Team
• Jun. 18, 2008 - Growing Pressures on the DR's Coasts
On June 8 (International Day of the Oceans) the Environment and Natural Resources Secretariat (SEMARENA, simply refered to by some Dominicans as "the Environment Ministry") and the United Nations Educational, Scientific and Cultural Organization (UNESCO) released figures showing that 40% of the DR's population -- i.e., 3,450,115 people -- lived on its 14 coastline provinces in 2002, a figure that has likely grown much in the six years since and is growing fast every day. Also, about 90% of the DR's trade is via ships.

Why does it matter? [Beyond what it means for national preparedness for hurricane, tropical storm and other adverse weather events, that is.] Because it signifies the growing pressures on the DR's coastal and marine resources -- its reefs, mangroves and other wetlands, protected marine areas and species (whales, manatees, porpoises, etc.), fishing grounds and even beaches. Multiple pressures -- destruction of wetlands in the name of development, nutrient and other runoff, discharges of untreated sewage and ship bilge, overfishing, overdrawing of groundwater supplies, greater waste and litter to manage, you name it!

For this SEMARENA, with UNESCO help, is launching an education and public awareness campaign to try to get Dominicans more aware of, and talking about, the pressures and challenges facing the DR's coastal and marine ecosystems. We applaud the effort, and simply ask that they go full tilt -- get all the coastal communities debating what is at stake, what are the potential short and long-term impacts of current trends and what can/should be done about it.

The 2002 census figures for the 14 provinces are as follows:

La Altagracia 182,020
Azua de Compostela 208,857
Barahona 179,239
Distrito Nacional 913,540
María Trinidad Sánchez 135,727
Montecrsti 111,014
Pedernales 21,207
Peravia 169,865
Puerto Plata 312,706
La Romana 219,812
Samaná 91,875
San Cristóbal 532,880
San Pedro de Macorís 301,744
El Seibo 89,261
_________________________

From the Environment Secretariat (SEMARENA):



El 40% de la población dominicana explota las costas

Medio Ambiente y la UNESCO desarrollan programas de concienciación sobre el papel de estos recursos

El 40% de la población dominicana vive en zonas costeras, es decir unos 3 millones 450 mil 115 personas, según el censo de población y familia realizado en el año 2002. Esto significa que las costas dominicanas, como recurso, tienen una gran presión por la sobrepesca y la contaminación.

A esto se le suma que, por su condición de isla, aproximadamente el 90% del comercio en República Dominicana se realiza por mar, lo que agrava el impacto sobre los recursos marinos.

Las alarmantes cifras de comunidades y personas que alrededor del mundo ejercen presión sobre estos recursos, favoreció que en 1992, en la Cumbre de Río de Janeiro, la Organización de las Naciones Unidas para la Ciencia y la Cultura (UNESCO, por sus siglas en inglés), propulsara la dedicación del 8 de junio de cada año como el Día Mundial de los Océanos.

La semana pasada , en el marco de la Semana del Medio Ambiente, la Secretaría de Medio Ambiente y Recursos Naturales (SEMARENA) realizó tres encuentros simultáneos con estudiantes de diferentes centros educativos de Santo Domingo y San Pedro de Macorís, en los que presentaron los resultados del Programa "Observando la arena", que desarrolla esta institución con el apoyo de la UNESCO.

La iniciativa promueve la preservación de los recursos costeros y marinos, en el marco del Día Mundial, celebrado el domingo, con el lema: "Ayuda nuestro clima/Ayuda nuestros océanos", que dedica especial atención a los arrecifes de coral.

El liceo Gastón Fernando Deligne y el colegio San Pedro Apóstol, de San Pedro de Macorís, así como el colegio Santa Teresita, en Santo Domingo, fueron los centros incorporados al Programa Escuelas Asociadas (PEA) de la UNESCO, donde se realizaron los encuentros que persiguen hacer parte a la comunidad educativa del abordaje de los problemas vitales sobre el medio ambiente, que incluyen la destrucción de los arrecifes de coral, la desaparición de las especies marinas y la protección de las regiones costeras.

El programa fue inaugurado en el colegio Santa Teresita bajo la coordinación de la Subsecretaría de Recursos Costeros y Marinos con la colaboración de la Comisión Nacional Dominicana para la UNESCO (CNDU), y la Subsecretaría de Información y Educación Ambiental.

Otro de los mecanismos ideados para promover la preservación de los recursos marinos es el "Proyecto Océano", que trabaja muy de cerca con la Red Mundial del Océano y ayuda a coordinar eventos y acciones con acuarios, zoológicos, museos, organizaciones de conservación, universidades, escuelas y negocios, en la ardua tarea de concienciar las poblaciones del mundo sobre el cuidado y preservación de estos recursos.

Poblaciones costeras en RD

República Dominicana cuenta con catorce provincias costeras, cuyas poblaciones viven en un alto porcentaje de los servicios que ofrecen sus costas, ya sea en el área turística, pesquera o ambas.

Esas poblaciones, que promedian unos 3,450,115 habitantes, tienen en sus recursos costeros gran parte de su fuente de subsistencia. La presión demográfica, el desarrollo de infraestructuras, la sobrepesca, entre otras, han favorecido la pérdida de sus arrecifes de coral, la desaparición de humedales, la contaminación de las costas e incluso, la desaparición de especies que no han podido sobrevivir a la destrucción de sus hábitats.

Entre las provincias costeras están: Montecrsti, con 111,014 habitantes; Puerto Plata, con 312,706 habitantes; María Trinidad Sánchez, con 135,727 habitantes; Samaná, con 91,875 habitantes y El Seibo, con 89,261 habitantes.

Además, la provincia La Altagracia, con 182,020 habitantes; La Romana, 219,812 habitantes; San Pedro de Macorís, con 301,744 habitantes; el Distrito Nacional, con 913,540 habitantes y San Cristóbal, con 532,880 habitantes.

El último grupo de provincias costeras, de un total de 14, lo conforman: Peravia, con 169,865 habitantes; Azua de Compostela, con 208,857 habitantes; Barahona, con 179,239 habitantes y Pedernales con 21,207 habitantes.



Comments (0) :: Post A Comment! ::Permanent Link

• Jun. 16, 2008 - DR Reefs at Risk
The image above was recently extracted from US National Oceanic and Atmospheric Administration (NOAA) database. The blue shaded areas represent reefs at low levels of pressure to their health, the yellow ones intermediate, the red ones high. Note the predominance of the red areas.
Why should you care about reefs? Two years ago we did a series which explored why they are important, what the specific pressures DR reefs are facing, what you can do to help, and what are recommended good, reef-friendly practice (in Spanish) for divers and snorkelers (you can get the English versions of the guidelines here). Since 2008 is the International Year of the Reef, you really should read up on the issue!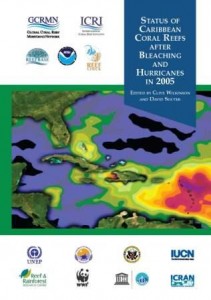 You might also wish to take a look at a report published earlier this year by the Intergovernmental Oceanographic Commission (IOC) of the Paris-based UN Educational, Scientific and Cultural Organization (UNESCO) and put together by the Global Coral Reef Monitoring Network (GCRMN) that assesses the state of the Caribbean's coral reefs after their toughest year in recent history, 2005. The IOC is the lead international entity assessing and reporting on the state of the world's marine environment. The GCRMN is a collaborative effort chaired by the led by the World Conservation Union (IUCN), the IOC and the UN Environment Programme (UNEP), with participation from the World Bank, several nongovernmental organizations (NGOs) and research institutions.*

As to why understanding what happened in 2005 is important... Two of the most traumatic years in recorded observation of reef health (since 1880) were 1998 and 2005. A key difference between the two was that in 1998 there was no systematic monitoring of reef health in the Caribbean; in 2005, thanks to the efforts of GCRMN, NOAA (which provided satellite data) and Reef Check, we have a near blow-by-blow account of what happened to the Caribbean reefs during the year. Reef experts think that this may provide valuable clues as what Caribbean reefs will face in the future as global climate change places increasing stresses on the reefs.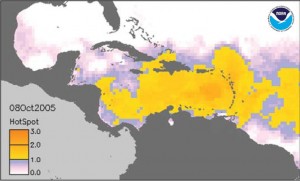 I will not repeat here the extensive diagnosis and month-by-month review of the year's events affecting coral reefs, including "hot spots," coral bleaching and hurricane damage (Emily, Katrina, Rita, Wilma), and the diseases the reefs were more susceptible to as a result of the other stresses. I will mention, however, that the report found that some sites in the DR suffered up to 38% mortality.

What lessons does the report draw? The report sums it up thus:
Unfortunately direct management action is unlikely to prevent coral bleaching and mortality from climate change on most of the world's reefs.
However, effective management can reduce the damage from direct human pressures and encourage the natural adaptation mechanisms to build up reef resilience;
Such actions will promote more rapid recovery in the future, especially if bleaching will become a regular event.
Unfortunately, current predictions are for more frequent and intense warming in the Caribbean with the high probability of increased bleaching and coral mortality.
Severe coral bleaching is predicted to become a more regular event by 2030, and an annual event by 2100, if the current rate of greenhouse emissions is not reversed.
________________________


*

The secretariat of the Convention on Biological Diversity, the Reef and Rainforest Research Centre (RRRC), Reefbase, Great Barrier Reef Marine Park Authority (GBRMPA), the International Coral Reef Initiative (ICRI), the Australian Institute of Marine Science (AIMS), the Reef Check Foundation, World Resources Institute (WRI), and the US Government's National Oceanic and Atmospheric Administration (NOAA).
Comments (0) :: Post A Comment! ::Permanent Link

• Jun. 15, 2008 - DR Joins the Caribbean Challenge
This news was announced at the end of May. Sorry for taking so long to post about it.

I think it's great that the DR has joined the Bahamas, Jamaica, Grenada and St. Vincent and the Grenadines as the founding members of the Caribbean Challenge, and applaud the Fernandez Administration for be willing to lead instead of dragging their heels as the DR too often does on international environment initiatives.

Normally I would be more skeptical of government promises (particularly in the DR) of protecting marine resources, but this initiative has a few things going for it that just might make it work:
money -- from The Nature Conservancy (TNC) (kudos to TNC for stepping up first to make this happen!), probably the German Government and Global Environment Facility (GEF) as well and maybe even the US Government and World Conservation Union (IUCN) (these latter two helped sponsor the event at which the Challenge was launched);
technical help, not only from TNC, but also probably from the UN Environment Programm's (UNEP) Caribbean office (CEP), the UN Development Programme (UNDP) and groups such as Reef Check;
mutual reinforcement, not only among themselves, but also from other members of the Global Island Partnership (GLISPA) (kudos to GLISPA for inspiring some concrete initiatives);
the desire not to fail where the two Pacific initiatives on which the Caribbean Challenge was modeled appear to be succeeding.
Or am I letting optimism get the better of me?

Now, my next question is, where best to allocate in the DR the resources this initiative will bring? Where might it have the greatest positive impact?
_________________________



From The Nature Conservancy (TNC):



Dominican Republic and Other Caribbean Nations Launch Unprecedented Challenge Initiative to Protect Marine and Coastal Resources

The Nature Conservancy joins Caribbean leaders to launch "Caribbean Challenge" at United Nations COP-9 conference

On Tuesday, The Nature Conservancy and Caribbean leaders announced the launch of the Caribbean Challenge, an effort by regional governments to build political support and generate long-term funding to protect at least 20 percent of participating countries' marine and coastal habitats by 2020.

The Dominican Republic will benefit from the Caribbean Challenge by providing long-term financial sustainability to its national system of protected areas, which includes 19 Marine Protected Areas. Challenge-generated funds will also go toward promoting sustainable tourism in places such as Parque Nacional del Este and Samana Bay, where whale watching and other forms of sustainable tourism generate important revenue for the parks and local guides while protecting coral reefs, marine mammals and other marine and coastal resources.

"The Caribbean Challenge will build on the work that The Nature Conservancy has been doing in the Dominican Republic in coordination with the government and our partner organizations," said Nestor Sanchez, director of external affairs for The Nature Conservancy in the Dominican Republic. "This initiative gives us the capacity to protect our country's beautiful biodiversity for our people and visitors well into the future."

Over the next four years, the Conservancy will work alongside Caribbean governments in the Dominican Republic, The Bahamas, Jamaica, Grenada and St. Vincent and the Grenadines — with several other nations slated to endorse the Challenge in the coming weeks — to set aside nearly 7.4 million acres (3 million hectares) of marine and coastal habitat in protected areas, improve fisheries management and establish sustainable finance mechanisms.

"The Caribbean Challenge will endow more than US$40 million in protected area trust funds to ensure that important marine and coastal habitats are protected in perpetuity," said Stephanie Meeks, acting president and CEO of The Nature Conservancy. "This is a small investment today for the priceless, long-term benefit of protecting the fish stocks and tourism-related livelihoods of the more than 10 million people living within the Challenge's participating nations."

At the invitation of Caribbean nations, The Nature Conservancy is coordinating with participating countries to execute the Caribbean Challenge, which represents the largest coordinated, multi-nation conservation campaign in the region.

Countries that sign-on to the Challenge will gain access to millions of dollars in new funding to meet their conservation goals, leading to more rangers, patrol boats, scientific expertise and education programs that will help to ensure effective protection of marine and coastal resources. So far the Dominican Republic, The Bahamas, Jamaica, Grenada and St. Vincent and the Grenadines have endorsed the Challenge, while Antigua and Barbuda, St. Kitts and Nevis, Dominica and St. Lucia are considering the initiative and are reported as likely to sign on.

The Conservancy has pledged US$20 million to launch and support the Caribbean Challenge, with $8.6 million of this pledge directed toward capitalizing protected area trust funds and leveraging additional dollars. The German government is considering a matching grant of $8.6 million for the trust funds. In addition, these Caribbean countries are working with the Global Environment Facility and its implementing agencies to access additional support for conservation and sustainable livelihoods projects that will advance the goals of the initiative.

The Caribbean Challenge is the third large-scale regional initiative to be launched in the past three years, adding to a global trend of island leaders standing up and pledging to protect vast percentages of their marine and coastal resources. The Challenge was inspired by the "Micronesia Challenge," to protect 30 percent of marine resources and 20 percent of terrestrial resources in the Northern Pacific by 2020, and the "Coral Triangle Initiative," to safeguard Bali's rich marine resources.

Together, these initiatives, which span regions containing 83 percent of the world's coral biodiversity and 82 percent of the world's mangrove species, have the potential to protect a significant portion of the world's marine biodiversity and the livelihoods of over 130 million people living within these areas.

The Caribbean Challenge was launched on Tuesday at an event held by the Global Island Partnership (GLISPA), a group of island nations and nations with islands — small and large, developing and developed — to mobilize leadership, increase resources and share skills, knowledge, technologies, and innovations in a cost-effective and sustainable way that will catalyze action for conservation and sustainable livelihoods on islands. In addition to providing funding for the Caribbean Challenge, the Conservancy also committed $500,000 to support GLISPA, recognizing the important role that the partnership plays in supporting and catalyzing island commitments to nature conservation and sustainable livelihoods.



Comments (0) :: Post A Comment! ::Permanent Link

• Jun. 10, 2008 - No Bilge Dumping in Our Ports, Thanks
The Dominican Environment and Natural Resources Secretariat (SEMARENA) denied a ship flying the Panamaian flag (of convenience) permission to dump their bilge water in Barahona port, or anywhere else in Dominican territorial waters, for that matter.

SEMARENA cited the DR's obligations under Annex IV (Ship Sewage) of the International Maritine Organization's (IMO) 1973 Convention for the Prevention of Pollution from Ships and its 1978 amending protocol (MARPOL 73/78), just as the Bahamas did before them in also denying the same ship to discharge their sewage. [The DR also has obligations to restrict ship sewage discharges under the Cartagena Convention on Protection of the Marine Environment of the Wider Caribbean, which it ratified in 1998.]



What in the World is MARPOL?



The DR ratified MARPOL and its various annexes in June 1999 (the closing days of the original Leonel Fernandez administration). Annex IV actually entered into force in September 2003 (it required a certain number of ratifications before coming into force), and was last revised in 2004. Currently the Annex only

has

to apply to

new

ships (signatory nations can be tougher if they wish); after 27 September 2008 it will apply to all existing ships as well.

The MARPOL Annex requires ships to be equipped with either (1) their own sewage treatment plant; or (2) a sewage holding tank; (3) something known as a "sewage comminuting and disinfecting system" (I'll refrain from explaining the technical aspects of this one). Ships can discharge raw sewage ("bilge" or "sludge", depending on who you're speaking to) far away at sea, on the supposition that the ocean can deal with it dilution and natural bacterial action. But they cannot discharge untreated wastewater within three nautical miles of shore, or sewage that has not at least been disinfected or comminuted within 12 nautical miles of shore.

Countries can set up port-based facilities for reception and treatment of ship sewage, and the Annex sets out requirements for such systems. However, most Caribbean ports, including the DR's, don't have them because of installation and operation costs. IMO, the UN Environment Programme (UNEP) and World Bank have been trying to help Caribbean nations install such systems, or at least create regional ship sewage recption hubs in the bigger Caribbean ports.

Given the trade and cruise traffic the DR gets, maybe it should consider installing these systems?



Good News, Bad News



The good news is that the Dominican government is actually cognizant of its duties, obligations and powers under an international environment convention and enforcing them (the Navy was actually ordered to ensure that the ship in question left Dominican territorial waters without discharging). The bad news is that the ship was going to discharge in the first place because an official at SEMARENA had issued a "no objection" letter to the ship's plans in the first place!


The good news is that SEMARENA has very publicly suspended the officials involved with issuing the "no objection" letter and created a special commission tasked to investigate the case and report publicly their findings.

While it's not so rare (unfortunately) in the DR to have allegations of misconduct by public officials, it is rare to have it done to people appointed by your own Administration and to have such openness and high profile about the investigation. I think the Fernandez Administration should be applauded for the transparency and tough action, hope that it makes more SEMARENA functionaries clean up their acts, and would welcome even more openness and transparency in its work going forward.

Last but not least, one has to wonder how many ships, including the cruise ships that visit Dominican ports, in the past have discharged sewage into Dominican waters without permission or with permission that they should have been issued. And perhaps more importantly, is this just selective enforcement and a blip on the screen, or the start of a trend toward serious enforcement regarding the DR's marine environment. I can only hope it's the latter.
_________________________

From the Environment Secretariat (SEMARENA):



Medio Ambiente prohíbe descarga de sustancias de barco en el país

La Secretaría de Estado de Medio Ambiente y Recursos Naturales (SEMARENA) informó que prohibió la descarga en el país de los residuos aceitosos conocidos como "bilge" o "sludge", que transporta el barco MSC-Trinidad, de bandera panameña (matrícula IMO-8213756), y solicitó a la Marina de Guerra la salida inmediata del barco de las aguas territoriales dominicanas.

El ingeniero Víctor García, subsecretario de Suelos y Aguas, en funciones de secretario interino de Medio Ambiente, explicó que el país no tiene la capacidad de procesar la cantidad de residuos que la nave transporta, y que además, según el manifiesto del barco, esta carga no está consignada a la República Dominicana.

La institución informó a la Jefatura de Estado Mayor de la Marina, en la persona del vicealmirante Julio César Ventura-Ballonet, y a la Capitanía de Puerto de Barahona la nulidad de la carta de no objeción DPA-2086, de fecha 2 de junio, emitida por la Subsecretaría de Gestión Ambiental de la Secretaría de Medio Ambiente, dado que en ésta se cometió un error de interpretación de las leyes nacionales y de los convenios internacionales de los que el país es signatario, entre ellos Marpol 7378.

García explicó que se ha iniciado una investigación interna para tomar las medidas correspondientes ante esta irregularidad.

Los residuos ("bilge", en inglés) son desechos con niveles significativos de toxicidad, mezcla de aceite y agua de los motores, que se depositan en la sentina de los barcos. El barco MSC-Trinidad procede del puerto Freeport Bahamas, de Bahamas, país que le negó a la nave la autorización de descarga del material porque, al igual que República Dominicana, no poseen las facilidades para deshacerse de este material.



Comments (0) :: Post A Comment! ::Permanent Link

• Apr. 4, 2006 - Buenas Practicas Ambientales para Snorkeling ¨Amigable de Arrecifes de Coral¨
• Apr. 3, 2006 - Buenas Practicas Ambientales Para un Buzo ¨Amigable al Arrecife de Coral¨
• Mar. 31, 2006 - Part III: What You Can Do to Help the DR's Reefs
In part I of this "primer," we examined why it is important to protect coral reef systems, what sort of things threaten their survival. In Part II, we looked at what coral reefs the DR has, what condition they are in currently, and a brief overview of what currently is being done to protect and/or rebuild them. Here in Part III we'll provide "eco-tips" on how divers, snorkelers and the average reader can help. Later blogs will look at individual groups working on reef issue in the DR.
Each Doing Our Part
Although we all can contribute in our own fashion, divers, dive shops, snorkelers and boaters have a particular responsibility and impact. Being a reef-friendly diver and/or snorkeler not only helps to protect reefs directly, it also helps to raise awareness for reefs. We here at the Green Team invite dive shops and tours and boat operators that have reef-friendly policies and practices to contact us at greenteam@dr1.com and if it checks out, we'll put you on the list of reef-friendly operations we will be posting on the blog. Likewise, divers, snorkelers and boating enthusiasts who have experienced what they consider to be reef-friendly operations should contact us with their own nominations, especially if you can provide us with full contact information on how we can get in touch with shop or operator in question. Input welcome!
Tips for Divers & Snorkelers
Never stand, walk or sit on a reef
Remember that even the lightest touch with hands or equipment (tanks, gauges, fins, underwater camera, etc.) can damage sensitive coral polyps. Don't wear gloves -- it's easier to forget the no-touch rule when wearing gloves.
Stay off the bottom -- divers should only use the weight needed and practice proper buoyancy control. Sediments stirred by feet or fins choke the corals. And seemingly lifeless areas may support new growth, if left undisturbed.
Practice neutral buoyancy and buoyancy control skills in a pool or sandy area before diving near a coral reef. Practice, practice, practice!
No souvenirs! Resist the urge. Shells are homes to marine creatures. Coral is a live animal and belongs in the sea, not dead on a coffee table. Gathering is banned under existing Dominican law. Dive sites can be depleted of their resources and beauty in a short time. If you want to return from dives with souvenirs, consider underwater photography.
Report environmental disturbances or damage of your dive sites. As a diver, you are in a unique position to monitor the health of local waterways. Report these observations to dive operators, DR authorities, and scientific or conservation groups that monitor coral reef health.
Giving diver orientations and briefings.

Holding buoyancy control workshops.

Actively supporting local coral parks.

Using available moorings.

Using available wastewater pump-out facilities.
Tips for Boaters & Fishermen
Accidental boat groundings damage reefs. Prop damage destroys shallow seagrass beds. Consult tide & navigation charts and steer clear of shallow areas. Remember, "Brown, brown, run aground. Blue, blue, sail on through". If you do run aground, immediately turn the engine off and tilt it up. Do not motor off -- wait until high tide to move the boat.
What Everyone Can Do
Participate in cleanups.
Make a donation or volunteer your skills to support a Coral Park. For example, you can participate in a reef survey, conduct outreach, or help educate others about reef conservation.
-- Keith R
Note: Special thanks to Dr. Ruben Torres of Reef Check, Mark of Santo Domingo Dive Services, and DR1´s Papa Tony, Debham and Christa for their help in reviewing this ¨primer¨ and providing additional information and materials
Comments (1) :: Post A Comment! ::Permanent Link

• Mar. 30, 2006 - Part II: Take a Dive! OR "Learn to Love the DR's Reefs"
In Part I of our 3-part primer on coral reefs in the DR, we examined why it is important to protect coral reef systems, what sort of things threaten their survival. Here in Part II, we look at what coral reefs the DR has, what condition they are in currently, and a brief overview of what currently is being done to protect and/or rebuild them. In Part III we'll provide "eco-tips" on how divers, snorkelers and the average reader can help. Later blogs will look at individual groups working on reef issue in the DR.
The DR's Hidden Cities
In a brief video he did for one of the several groups working on reef protection worldwide, actor Ed Harris calls coral reefs "the hidden cities" because of their size, complexities and number of inhabitants. The DR has many of these "hidden cities."
The DR has two basic kinds of coral reef: (1) fringing, which is always connected to the shore, no matter how far out to sea it extends; (2) bank/barrier, separated from the mainland by a lagoon and usually only reachable by boat.
Although the DR has a 1,532 km coastline, only about 170 km of it is protected by fringing and bank/barrier reefs. This is in part due to the fact that the DR has so many rivers draining into extensive watersheds along the coast, feeding freshwater and sediments that limit coral reef growth.
The largest barrier reef -- 64 km long -- is in Montecristi. Another large track is the Macao-Bavaro-Punta Cana barrier reef in the Mona Passage, which helps protect the Bavaro-Punta Cana area. Smaller coral reef formations are found scattered around the country's coastline, including Puerto Plata-Sosua-Cabarete, Cabrera, Samaná, around the Parque del Este and Isla Saona, Bayahibe, Boca Chica, Barahona and the Jaragua National Park -- in essence wherever the nicest beaches are found in the DR (think about the implications of that for a moment!).
There are also some important large offshore coral reefs -- "La Navidad" and "La Palta" -- about 140 km north of the DR.
Assessment of the Current Risks to DR Reef Health
As part of recent joint efforts by several organizations (such as the World Resources Institute (WRI) to map coral reef health worldwide, and specific program for the Caribbean run by the UN Environment Programme's (UNEP) Caribbean Environment Programme (CEP), some initial assessments of the health of Dominican coral reefs and threats thereto are available.*
These assessments suggest that over 80% of Dominican coral reefs are at-risk by human activities.
The ones in good condition tend to be far offshore or fall within three coastal/marine protected areas (MPAs) created by law -- del Este, Jaragua and Montecristi. But even these are not immune: some divers report drastic drops in fish populations both the 'coral garden' at Isla Catalina and the 'Aquarium' which is in front of the main beach, and have noted large fishing cages in areas that are supposedly 'protected' park areas. And experts fear that the recent announced opening of Parque del Este to hotel construction and/or the creation of an "ecological amusement park" might put even these at risk.
The most widespread risk is over-fishing and fishing practices (see graphic). Illegal fishing practices and catches are common and almost unchecked by Dominican authorities; in fact, because of Dominican practices and lack of enforcement, trade in conch from the DR is banned under the Convention of International Trade in Endangered Species (CITES). Conch is not the only species under threat; all commercially important fish and seafood species have been depleted. In some cases bleach is used to catch fish, in the process harming nearby coral.
According to these assessments, the second greatest pressure on coral reefs (affecting nearly 60%) comes from poorly planned and/or managed coastal development -- not only from mass tourism, dredging, pier and port construction, but also from new communities sprouting up along the coastline without proper waste management and sanitation services. Also affecting coral reefs is construction allowed in the sensitive mangrove and wetland areas that serve as natural sediment traps; without them, increased sediment and algae growth due to nutrient run-off smother coral reefs.
The third major category of pressure on coral reefs -- affecting around 45% of Dominican coral reefs -- is from sedimentation and pollution from inland sources. While this can include several sources, experts suggest that the main culprits are poor agricultural practices and deforestation.
The fourth major pressure category -- marine-based sources -- affects around 10%.
What Is and Isn't Being Done Already
There are a number of positive steps that have been taken to help the DR's reefs, but as in so many environment issues facing the DR, it seems that for every positive there is a caveat or counterbalancing force -- a sort of Good News, Bad News situation:
The good news is that the DR is ahead of many countries in the sense that it started creating Marine Protected Areas (MPAs) decades ago. It presently has six, including Montecristi National Park, the largest reef and sea grass banks and the least affected; and the National Humpback Whale Sanctuary, which starts north of Puerto Plata and extends east until Samaná, and includes the Silver and Navidad atolls and bank reefs.
However, the bad news is that all are under threat from unsustainable fishing and most are not yet well supervised and managed by environment authorities. Also potentially bad news is the determination of the current Administration to use the flawed 2004 Sectoral Law on Protected Areas to open Parque Nacional del Este to "development" that may impact, directly and indirectly, nearby reef systems.
The good news is that the DR, with the help of international agencies such as UNEP and nongovernmental organizations such as Reef Check and The Nature Conservancy (TNC), is doing a status check on its reef system and an inventory of that system's biodiversity.
The bad news is that the process is slow and large data gaps remain. This is one area where average divers can help, by volunteering for a Reef Check team. [More on this in our upcoming Green Team blog on Reef Check.]
The bad news is that they are poorly enforced, if at all, and sometimes the Navy and Drug Enforcement Agency interfere with the system on behalf of fishermen cooperating in "coastal monitoring" for purposes of interdicting drug shipments and yolas filled with people trying to get to Puerto Rico.
The good news is that a 1995 decree on protection of beaches and reefs bans the extraction of any type of coral, sponges, gorgorians, sea stars, urchins, mollusk shells or any other part of a coral reef system, living or not. This decree was incorporated by reference in the general environment law, Law 64-2000.
The bad news is it is not being enforced.
The bad news is that this part of the Ministry is still understaffed and short of the resources it needs to do the job it faces.
The bad news is that this step was proposed at the end of the 1990s and the delays have contributed to reef damage, and that similar steps are needed elsewhere in the DR not yet funded by such sources.
The good news is that several

resorts are banding together to help protect and restore the reefs.

For example,

the resorts that won the Blue Flag certification in Bayahibe

have supported Reef Check teams, supported a reef ball project, put in reef-friendly boat mooring and supported training for boat operators on proper conduct regarding the nearby reefs.
The bad news is that many hotels near reefs are not yet persuaded it is in their long-term interest to help protect the reefs, and that some of the DR's reefs do not such possible patrons near them.
What the Experts Recommend
In reports done for international agencies and institution and given to the DR government, experts assessing the DR's reefs have recommended the following steps:
involve all stakeholders -- communities, tourism businesses, fishermen, boaters, etc. -- in the planning and management of coastal sectors;
Reduce sedimentation by promoting good agricultural practices (e.g., terracing, more responsible use of chemical pesticides and fertilizers, etc.);
promote sustainable fishing practices, enforce current fishing restrictions, create fish replenishment reserves and require licensing for fishing;
decrease or eliminate untreated sanitary and solid waste discharges in all coastal areas, including larger cities like Santo Domingo, Puerto Plata and San Pedro de Macoris;
-- Keith R
* Francisco X. Geraldes & Mónica B. Vega. Status of the Coral Reefs of the Dominican Republic. May 2002.

Lauretta Burke and Jon Maidens. Reefs at Risk in the Caribbean. 2004. Published by World Resources Institute (WRI). http://pdf.wri.org/reefs_caribbean_full.pdf

D. Linton et al., "Status of Coral Reefs in the Northern Caribbean and Atlantic Node of the GCRMN," in Status of Coral Reefs of the World: 2002 . C. Wilkinson, ed. (Townsville: Australian Institute of Marine Science, 2002).

Comments (<%EntryCommentCount%>) :: Post A Comment! ::Permanent Link